I am sure you have heard about the trend in coloring books and doodling. You can go to your local bookstore, grocery store, and even toy store to find intricate and detailed coloring books. While those coloring books are beautiful and lovely (I have a few myself), they are not art therapy. Yes – even if some of those coloring books say "Art Therapy."  Art activities like coloring, making slime, worry dolls, calm jars and even crafting can be used in therapy sessions, but we call those experiences art as therapy. Art therapy is different.
The Many Sides of Art Therapy
Here's the thing – art therapy is multi-faceted. There is a lot more to this creative and expressive therapy than just coloring, making crafts or "calm down" jars. Let's start with the basic definition of art therapy. The American Art Therapy Association (AATA) identifies it as:
"an integrative mental health and human services profession that enriches the lives of individuals, families, and communities through active art-making, creative process, applied psychological theory, and human experience within a psychotherapeutic relationship. Art therapy, facilitated by a professional art therapist, effectively supports personal and relational treatment goals as well as community concerns. Art therapy is used to improve cognitive and sensorimotor functions, foster self-esteem and self-awareness, cultivate emotional resilience, promote insight, enhance social skills, reduce and resolve conflicts and distress, and advance societal and ecological change" (https://arttherapy.org/).
In other words, it is a process that allows individuals to speak through a visual language. If you consider how children talk to us through their play and movements, consider how art also speaks to us through the visual creations and our bodily responses to the art. Even more, ever hear a song that just speaks volumes to you? Art therapy is just like that. It is another language that allows you and I to speak when words are just not enough.
Art as Expression
Think about an experience that was difficult to explain for whatever reason; you had to be there, a variety of details, or so distressing or traumatic that the memories are fragmented. Art therapy offers an opportunity for you to express and talk about that situation by using colors, shapes, images, collage materials, sculpture, etc. By allowing someone to see what you are trying to find words for offers you a chance to avoid stumbling over the words.
Let's try one more thing. Have you ever tried to explain how you were feeling to someone and where it lives in your body? Consider how art therapy can help you display where in your body you are feeling a sensation related to anxiety. Look at the image below as a reference to a common art therapy directive.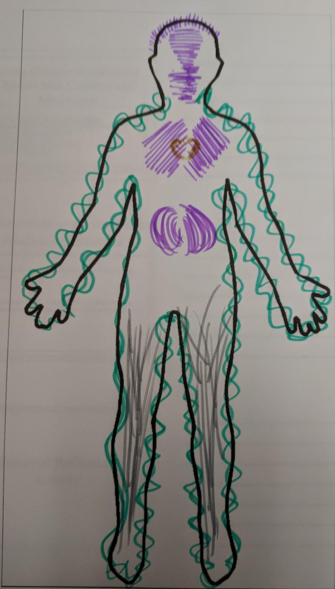 What Else Can Art Therapy Offer?
Additionally, art therapy offers us a chance to express ourselves in a way that is unique and individual to us. When I was an art major, I was all about painting, charcoal, and 2-D art pieces. Now, I am incredibly drawn to wood, found objects, watercolors, books, and zentangles. I make a lot of circles in my artwork and nature-oriented images/materials because it's part of my personality and my life. It's my expression and communication when words are not enough.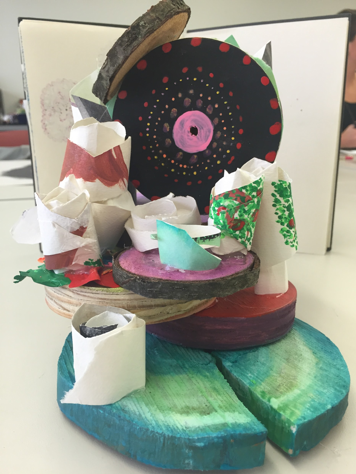 The Differences of an Art Therapist
I think it's important for me to explain how my role as a trained art therapist varies from a licensed professional counselor. To start, a therapist who uses art in their session cannot call it art therapy or call themselves art therapists. Art therapy is a separate profession. Art Therapists are "master-level clinicians who work with people of all ages across a broad spectrum of practice. Guided by ethical standards and scope of practice, their education and supervised training prepares them for culturally proficient work with diverse populations in a variety of settings." (https://arttherapy.org/).
To put it simply, I went to graduate school to earn a master's degree in Art Therapy with a specialization in Counseling. What that means is my education focused on art therapy and the art therapy process; therefore I am a trained art therapist. My training has taught me how to watch the art-making process to help an individual who may start to breathe shallowly as they begin to draw a traumatic scene or to provide particular materials/directive for someone who struggles with perfection or OCD-like tendencies.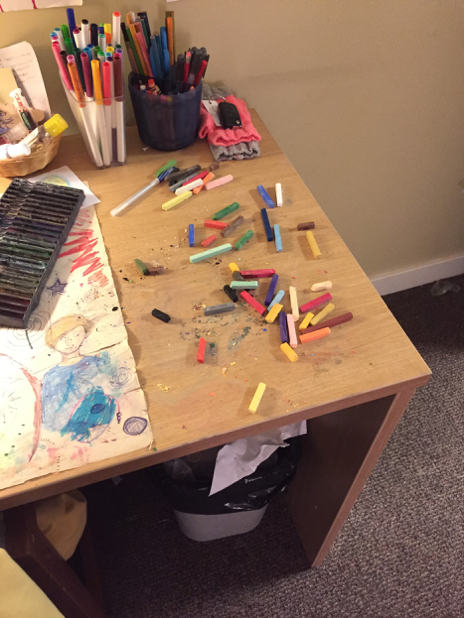 Other Details
In addition, my education provides me the knowledge and understanding of how to talk to you about your art and the process of your art-making. For example, if a client begins to change their breathing, display flushed cheeks and slow down their body language, I would ask them to put down the material they are using to have a conversation about what I was noticing. This is to help the individual notice what is happening for them internally. Before returning to the art, we would process the experience and focus on grounding.
While an individual makes art, an art therapist will observe the movements, the gestures, and even the set up of the materials. A client who has suffered significant trauma might display very slow and methodical methods as a form of containment and control. These observations would then be processed at the end of art-making to allow the individual to agree or disagree with the observations made. Art therapists are trained to ask questions or make comments focused around the art. We speak in a much different manner than "This is a really pretty picture of a beach."  I might say something like: "I am curious about these gestures and colors in the right corner. It seems like there may be a lot going on there, can you tell me about it?"
Final Thoughts
Lastly, art therapists are trained to use art therapy directives and/or spontaneous art-making. Allow me to explain, I may have a client who is working on family dynamics. I may ask them to create a Kinetic Family Drawing (a drawing that displays a family doing something together). Or I might invite them to just make art in response to how they are feeling about their family.
Furthermore, if a client comes to the session and is really feeling out of sorts and just wants to make art, I would invite them to find the materials they are interested in and just create; no directive or direction; just depending on the person. Some individuals can take abstract direction where others may need more direct (like specific art directives). Art therapy is not linear or one-size-fits-all. Much like the art created by the individual, art therapy is molded and tailored to the person participating.
Art Therapy with CPA!
Art therapy is for anyone and everyone. If you are willing to give it a try, you can learn a lot from the art-making process. To end, you are already an artist. Even if it has been years since you made art, you can still participate in the art therapy process. Most of us find some experiences or topics difficult to talk about. It may be something that is painful or makes us feel uncomfortable. Art therapy is a great tool to begin a conversation about the things that cannot be talked about that hurt the most.
If you are having difficulty expressing yourself, you might find it helps to talk to a counselor at CPA. Cristina Panaccione and Associates has one location in the South Hills and one office in Robinson Township. We are currently accepting a limited number of new patients, so check out our videos to learn more about how we can help you learn better communication skills.
* This information has not been evaluated by the Food and Drug Administration. This information is not intended to diagnose, treat, cure, or prevent any disease. Please contact a medical professional for advice.
__
This blog post was written by Kristin Riding
Kristin Riding MA ATR- BC LPC
Hi. My name is Kristin. I have lived in and around Pittsburgh for most of my life. I graduated from Slippery Rock University in 2013 with a BA in Art. In 2016, I graduated with my MA in Art Therapy with a specialization in counseling. I am a Licensed Professional Counselor, Board-Certified Art Therapist, Reiki Practitioner, and Certified Intuition Practitioner. Since that time, I have worked with a variety of ages and populations; children, adolescents, young adults, adults, elderly. Most of my experiences revolve around trauma and those who are learning how to survive difficult experiences. I believe in working from a place of authenticity and honoring the person who has chosen me as their guide.
It is my honor to be a guide and a light on this journey called life.
When was the last time someone listened to you?  Really listened and provided active feedback.
To get started let our intake coordinator connect you with our therapist who is your best fit for your needs